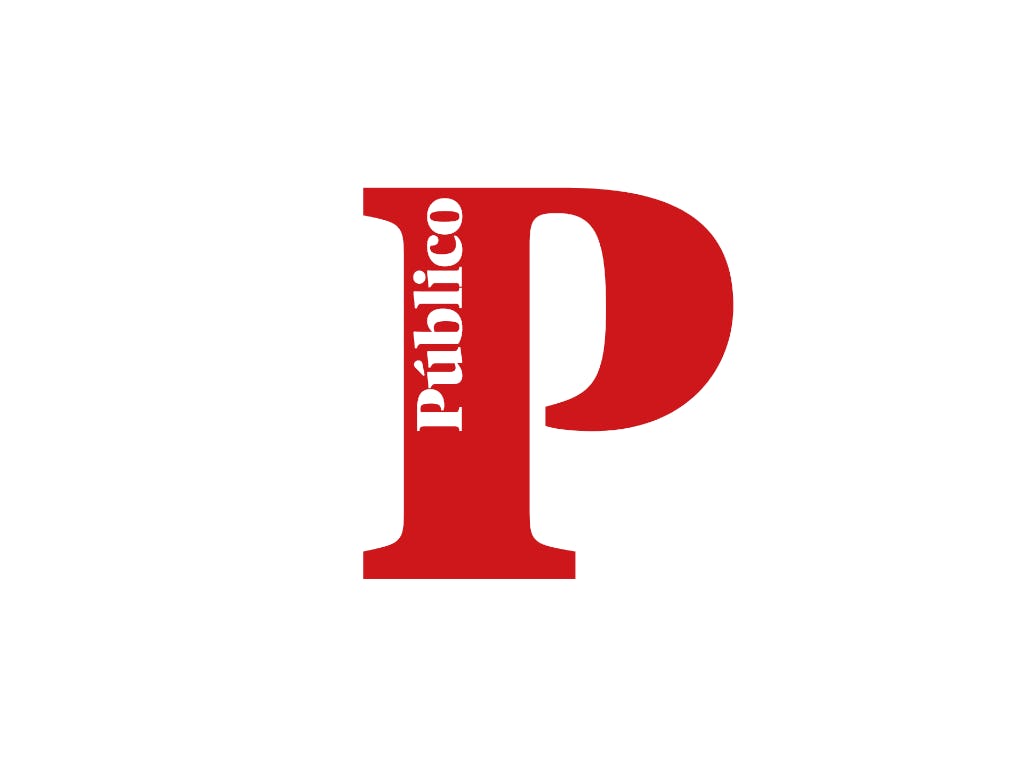 November 1, 2020
Pontos de Vista Magazine Interview (Jornal Público)
Dra. Márcia Martins interviewed on October's edition of Pontos de Vista Magazine (in Jornal o Público):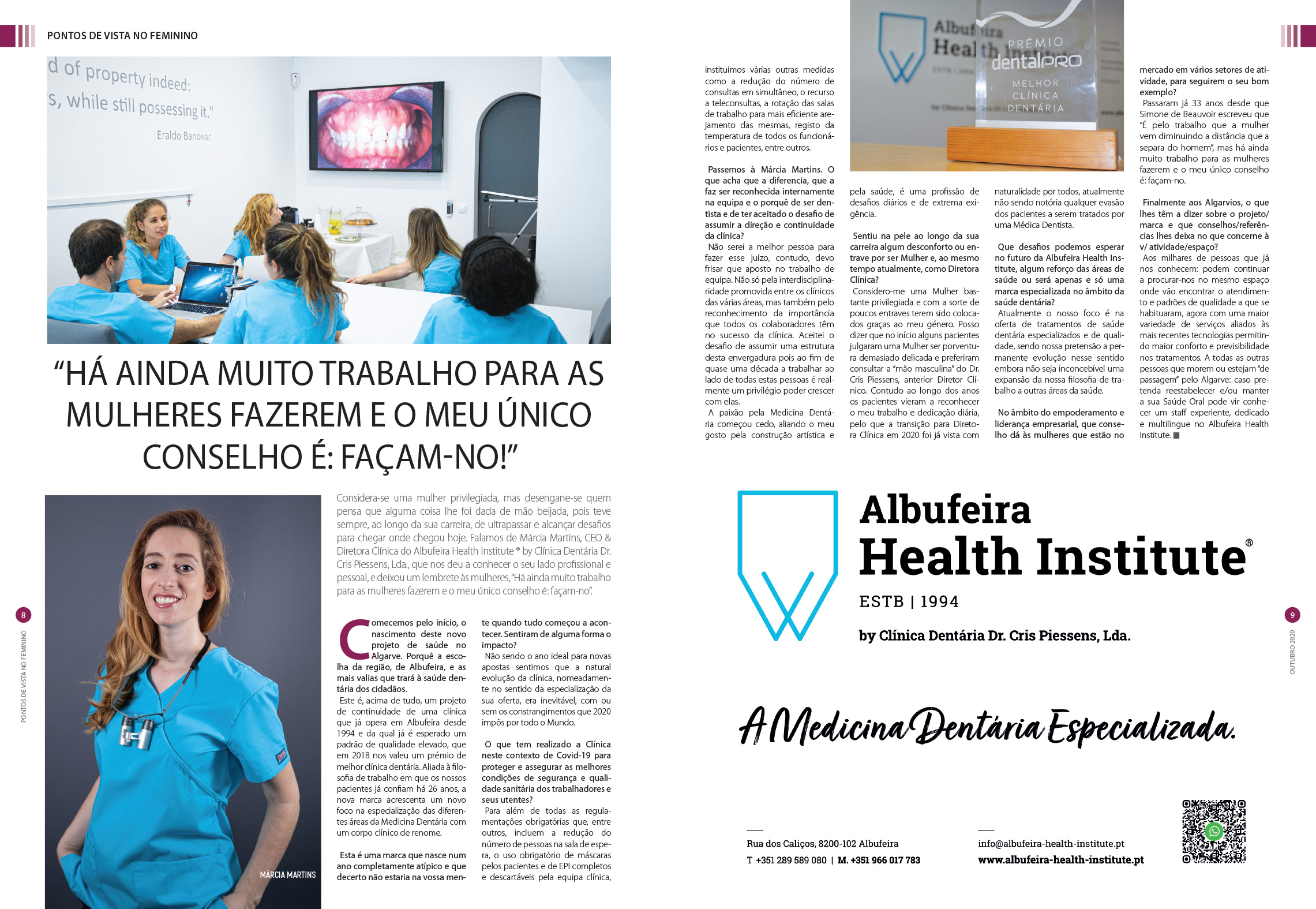 Translation from the original text in Portuguese:
Let us start at the beginning, the birth of this new health project in the Algarve. Why the choice of the region, of Albufeira, and the added value it will bring to the citizens' dental health.
This is, above all, a continuity project of a clinic that has been operating in Albufeira since 1994 and is expected to have a high quality standard, which in 2018 earned us a prize for best dental clinic. Combined with the work philosophy that our patients have trusted for 26 years, the new brand adds a new focus on the specialization of different areas of Dentistry with a renowned clinical staff.
This is a brand that was born in a completely atypical year and that certainly would not be in your mind when everything started to happen. Did you feel the impact in any way?
Not being the ideal year for new bets, we felt that the natural evolution of the clinic, namely towards the specialization of its offer, was inevitable, with or without the constraints that 2020 imposed worldwide.
What has the Clinic done in this context of Covid-19 to protect and ensure the best safety and health conditions for workers and their users?
In addition to all mandatory regulations that, among others, include reducing the number of people in the waiting room, mandatory use of masks by patients and full and disposable PPE by the clinical team, we have instituted several other measures such as reducing the number simultaneous consultations, the use of teleconsultations, the rotation of work rooms for more efficient ventilation, temperature recording of all employees and patients, among others.
Let's move on to Márcia Martins. What do you think sets you apart, makes you recognized internally in the team, and why is it that you are a dentist and have accepted the challenge of assuming the direction and continuity of the clinic?
I'm not the best person to make that judgment, however, I must emphasize that I bet on teamwork. Not only by the promotion of interdisciplinarity among clinicians in the various areas, but also due to the recognition of the importance that all the staff has in the clinic's success. I accepted the challenge of assuming a structure of this magnitude because after almost a decade of working alongside these persons it is really a privilege to be able to grow with them.
The passion for Dentistry started early, combining my taste for artistic construction and health, it is a profession of daily challenges and extremely demanding.
Did you feel any discomfort or hindrance in your career because you are a Woman and, nowadays, as a Clinical Director?
I consider myself to be a very privileged woman and fortunate that few obstacles were due to my gender. I can say that at the beginning some patients thought a Woman was perhaps too delicate and preferred to consult the "male hand" of [*] the former Clinical Director. However, over the years, patients came to recognize my work and daily dedication, so the transition to Clinical Director in 2020 was naturally seen by everyone. Currently I sense no discomfort in patients to be treated by a female Dentist.
What challenges can we expect in the future of the Albufeira Health Institute, some reinforcement of the health areas or will it be just and only a specialized brand in the scope of dental health?
Currently, our focus is on offering specialized and quality dental health treatments, and our intention is to constantly evolve in this direction, although it is not inconceivable to expand our work philosophy to other areas of health.
In the scope of empowerment and business leadership, what advice do you have for women who are in the market in various sectors of activity, to follow your good example?
It has been 33 years since Simone de Beauvoir wrote that "It is through work that women have been reducing the distance that separates them from men", but there is still a lot of work for women to do and my only advice is: do it.
Finally, to the Algarvians, what do they have to say about the project / brand and what advice you give them regarding your activity / space?
To the thousands of people who already know us: they can continue to look for us in the same space where they will find the service and quality standards to which they have become accustomed, now with a greater variety of services combined with the latest technologies allowing greater comfort and predictability in treatments. To all other people who live or are "passing through" the Algarve: if you want to reestablish and / or maintain your Oral Health you can come and meet an experienced, dedicated and multilingual staff at the Albufeira Health Institute.
* Redacted to comply with the General Data Protection Regulation (GDPR).
https://pontosdevista.pt/2020/10/18/ha-ainda-trabalho-as-mulheres-fazerem-unico-conselho-facam-no/